STEVE HEWITT: (LOVE AMONGST RUIN) STILL RUNNING, STILL STRONG

- INTERVIEW BY PHIL KING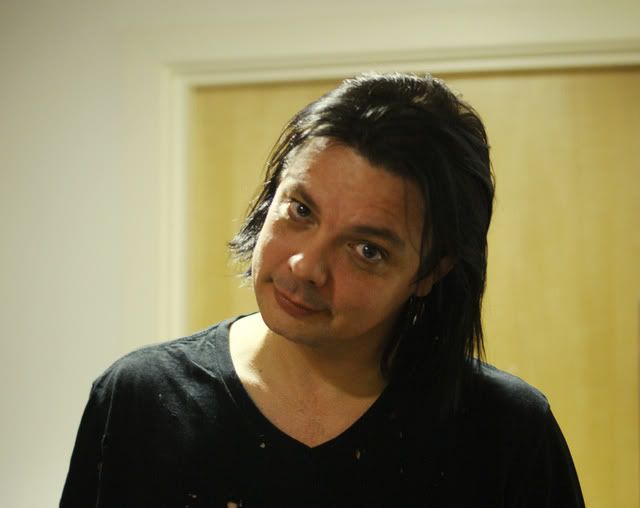 Love Amongst Ruins are a band firmly encamped in rock's finest traditions. Initially assembled by former Placebo songwriter and drummer Steve Hewitt, Love Amongst Ruin has transformed from a personal project to a fully fledged band in it's own right. Making a bold statement with the eponymously titled 'Love Amongst Ruin' in the later half of 2010, the band got off to an impressive start displaying a sound that's taut but loose and always full of energy and passion. Now the band have decided to fully road test the music by supporting the mighty Feeder on their current UK tour.

As with any great band it's all in the chemistry and the band that slinks onto the Manchester Academy stage tonight are an alchemists dream. Steve Hewitt takes singing duties and plays guitar while either side of him Don Ross Skinner and Steve Hove spray molten riffs into the crowd. Providing a solid bedrock for the guys to work from is Teresa Morini on bass, and, making his very first appearance the drum stool is Rami Sherrington. Opening with an attention grabbing 'Blood & Earth' Love Amongst Ruin slide seamlessly into a bare knuckled rendering of 'So Sad (Fade)', and it's easy to see everybody's enjoying themselves and all kinds of musical dialogue is opening up over the stage. New single 'Alone' does nothing to slow the gathering momentum and a reflective 'Truth' shows the band are equally comfortable with slower tempos. Wild sparks eventually start to fly when the band play a furious pure rock version of Thin Lizzy's 'Got To Give Up' which allows the band, especially guitarist Steve Hove's rampant soloing, to really shine. Hot on its heels is an urgent 'Running', which is rapidly turning out to be the best track on the new record, leaning only the heavy funk rhythms of 'Home' to fetch the set to a close.

It always a pleasure to witness flashes of greatness and with this performance Love Amongst Ruin proved that something special lies at the heart of the band. I'm sure that as confidence grows over the next few months, Love Amongst Ruin will gel into a force to be reckoned with.

As indie rock monsters feeder storm the stage and rip through songs from their great new record 'Renegades', I sit down in the relative quiet of Love Amongst Ruins dressing room. The band are understandably in good spirits after playing such a great set and are welcoming and talkative. Sat relaxed in a leather chair, Steve Hewitt, taking the role as band spokesmen, graciously answers some questions put forward by Mudkiss Fanzine
PHIL: How was the show tonight?

STEVE: It was our first show back; it was our first show this year. The last time we played was the Birmingham O2 Academy with Futureheads and Feeder, but I've known Grant and Taka for quite a while, obviously through Placebo, and had a chat with them afterwards and said check out the record, we'd really appreciate some support tours, and they came through for us.

PHIL:Could you introduce the band?

STEVE: There were six but there have been some major changes, there's been a river that flows through Love Amongst Ruin at the moment which is something I need to dam. We were a six-piece: it's always been me, Steve Hewitt, Donald Ross Skinner, there's always been Steve Hove, and we've been through a few bass players but we've now a solid member in Teresa Morini. Just in the new year I had an email from our ex drummer Steve York saying he couldn't continue due to family commitments so we had to hold auditions which was quite an exciting time for the band. It was something I wanted to do anyway for LAR to find somebody brand new and fresh and somebody we can completely manipulate.

PHIL: It's interesting that with you occupying the drum stool for so long with previous bands was it easy for you to delegate drumming duties to someone else?

It's always difficult!

PHIL:Are you critical?

STEVE: Of course because nobody's as good as me (laughs). I've actually found through the years that I have been drumming, which has been twenty years but it's the twelve years with Placebo which has defined my existence as a public figure. It's because of that part of my musical life, and it's coming up to three years now, I'm finding out there's lots of stuff coming back from fans around the World, because Placebo were a global band, we sold twenty million records. We were all writers, it was a proper band, and there's words like virtuoso that have been mentioned and to me that's really important. My first love is drumming, and for me as an untrained drummer, self taught but also just applying your own ideas and having an effect on a global scale, it's so fucking important to find the right guy. With Rami I want him to create his own style because it's very important to me how the drumming is, because when we turn up on stage people are gonna go "Who's he got on the kit?" I'm actually now at the point of my ultimate fucking place where I want it to be. I always wanted a new, young, fresh guy that I'd never met before, who'd never been involved in the music business to the point I had, just to share information and stuff like that and he can take that on board. But tonight, for his first gig I thought he was fucking awesome and he kicked out the jams!

PHIL:Do you all share the same musical influences?

STEVE: I think pretty much. When I was out of Placebo, the first person I turned around to was Donald Ross Skinner. Don used to be Julian Cope's left hand man, so he's done 'World Shut Your Mouth' But the main thing I love about Don is he recorded and produced what I think is one of the best records of the nineties which is 'Peggy Suicide' and that's something I hold fucking dear. I still think it's an incredible record and I think it's overlooked. I hope at some point people will pick it up in years to come and go 'Fucking Hell!' Donald was a big part of that and a big part of the saviour of the commercial side of Cope and for anyone to have the strength and imagination and creativity to deal with an artist such as Julian, it's very important to me. The first person I turned to for LAR was Donald, and it never was LAR it was nothing, it was me with a bunch of sketches, and I turned to Donald and asked him to help me produce this fucking album and we built it up from there. I needed to be in a place where I could rely on someone and Donald was my first choice.





PHIL:Does Love Amongst Ruins have a mission statement?

STEVE: Yes! Well the thing is with my previous band; because of the way the Placebo thing ended it was really disappointing and quite shocking after so much time and fucking work and the success, that we became, I feel, drawn into the same classic failures that most great rock bands do. It fucks up because of different things, of ego and money and things like that, which is a shame because it all should be about the music and being thankful you're touring round the world. You're appealing to every fucking country in the world and you're successful, and that's the only reason you're successful because if you can manage to appeal to every country in the world then fucking hell. Even when I was still in Placebo we'd still look round at each other and go "How the fuck is this happening?" But there was something that hit a global fucking vibe. We didn't know what that was and I'm sure Brian and Stefan still don't know what it is, but they're trading off it.

I always wanted to push Placebo to become one of the greatest rock bands in the world, even to the point of changing the guitar from Fenders to Gibsons to make it harder and be a contender with some of the greatest rock bands in the fucking world. But they obviously didn't want to do that so for me, LAR harks back, not to my great loves like Depeche (Mode) or the Cure or the Smiths, but further back to AC/DC, Black Sabbath and Led Zeppelin and try to get a more melodic rock thing going on because I think there's a big hole there. Ultimately for me it's a see through umbrella and it's loosely based on a Thin Lizzy thing and a possibly sketch where LAR could go. I want it to be heavy, rocking but melodic and beautiful and the only thing I can reference to that is Lizzy.

PHIL: Interestingly enough Lizzy played last week at the Apollo here in Manchester

STEVE: I was there! It's twenty-five years since Phil (Lynott) died and then the irony of last weeks death of Gary Moore. The band that played never wanted it to be a Lizzy gig; they wanted it to be a tribute because if you saw it they showed pictures of Phil.

A good friend of mine is Robert Smith from the Cure and he and I share the same thing because we spent many times, many times, off our heads drunk whatever, and I'd ask "Who's your favourite rock band?" and he's answer "What do mean by Rock?" and I'd say "Grooviest rock band?" and he'd say "Fucking Lizzy!"

PHIL: The Thin Lizzy cover 'Got To Give It Up' that you played tonight, have you recorded it?

STEVE: We have recorded that. There's two covers we've recorded after completing the Love Amongst Ruin record.

There were two songs that came to me which I felt were really important, one is 'Got To Give It Up', and the other one is 'Rise' by PIL which is a song of hope. I mean for me being a drummer for twenty years to suddenly be singing in a band, I don't know how it's going to go but I'll take the fucking plunge, put this together and it might be shit but y'know I might be wrong I might be right.

PHIL: Now you've had a chance to live with the LP…

STEVE: LP! Fucking old school I fucking love that.

PHIL: Are you still happy with it or is there anything you'd go back and change?

STEVE: I am! I'm really proud of it; it's been that classic cliché, a cathartic thing to get that shit out of you, out of your heart and out of your mind. There's nothing like a great crisis to create great art and I used that. . I got my friend John Thorne in, John Thorne lives in Manchester and is the bass player in Lamb. He was the first person I called to come down because all I wanted to do was start trying to write music from a different angle and he's a jazz upright bass player. He plays rock and stuff but I wanted to write with my drums against his upright bass playing. And that's the thing I wanted to do because I thought over the years I've been doing sessions and music and stuff, nobody's ever pulled off fucking great dance music with real fucking musicians. You do sessions but it all comes down to 909 or 808 or whatever, but I wanted to play rock drums against somebody playing upright bass. And that's what we did and the first thing we ever wrote was 'Running'

I've always played a bit of guitar and come up with riffs for Placebo. I've always written on bass, it's just easier for me for rhythm and melody. So me and John started writing and we'd get the guitar out – John plays guitar – we'd get keyboards and it got to the point where we'd got these ideas, then I got Donald in because he's a great arranger. I'm a great arranger but he's better (laughs), slightly. Just a little bit, but it's true. It got to the point where John said what about singing and the lyrics? And that was it; I started writing.

PHIL: The Love Amongst Ruin record is dark and deep and quite technical, but tonight you were a ROCK band and I was surprised at the change.

STEVE: We were a six-piece and we've been through various changes basically because of people's personal situations and feelings. I actually think it's more exciting to come into 2011 and be a five-piece and make more of an impact. It's just more immediate and I think these Feeder gigs are the perfect step up for us. I never was a person to turn round and be like "Oh yeah, I've sold twenty million records, guys this all gonna be fun, we're gonna step in, we're gonna be sold out in the states..." That never was the issue. It's like we're right back to the beginning, and as you find right now, the four people in this room have come in and are sticking with it.

I started off writing on my own to prove to the world and the global audience of my ex Placebo fans that Brian wasn't the only writer. You just don't understand how much work, effort, ideas musical stuff went in to make Placebo what they are today. I REFUSE, point blank, to let him get away with all that because it never fucking was.





PHIL: What's been the personal highlight of Love Amongst Ruin so far?

STEVE: For me the personal highlight is getting the record finished and playing the Eurosonic Festival and continuing to exist. And, people caring, Karrang radio have been amazing, just people appreciating your music. I've never been a massive taskmaster; the only thing I've said is that we have to be world-class. I left on a high and I helped Brian and Stefan get it up to that level and you learn how to pull off the eighty to hundred thousand capacity shows, but for this band to go from our first show to this one tonight, that's my highlight, that LAR continues and people give a fuck.

For me it's about getting world-class players who want to stick around and see this through. We're on our first record that I wrote with John Thorne and we're in the process now of turning that over to the next record where everybody has writing credits. But for me having the greatest players who are actually better players than I am a singer and guitarist, y'know I'm not stupid but I'm always aware of the situation I'm trying to create whilst not being able to fill the fill the shoes I should be. But as a writer I can, as a performer I'm really working on that, but I'm just trying to have the most solid, global world-class band I can. And I understand why some people have left and not wanted to do it, but if you want to make something work it doesn't happen easily. It takes time.

credit/source: http://www.mudkiss.com/stevehewittinterview.htm